Willie Geist says Matt Lauer is 'as good as he can be' after firing over misconduct allegations
Geist was silent on the sexual misconduct allegations on Lauer up until now
Seems like all is going to be somewhat better for Matt Lauer, his former co-host Willie Geist said in a recent interview.
On Tuesday night, ET spoke with the Today show's Willie Geist about the NBC morning show's recent shakeup, placing Hoda Kotb as a co-anchor alongside Savannah Guthrie.
Geist, the Sunday Today host, told ET that he stays in touch with Lauer, who was officially replaced by Hoda Kotb last week.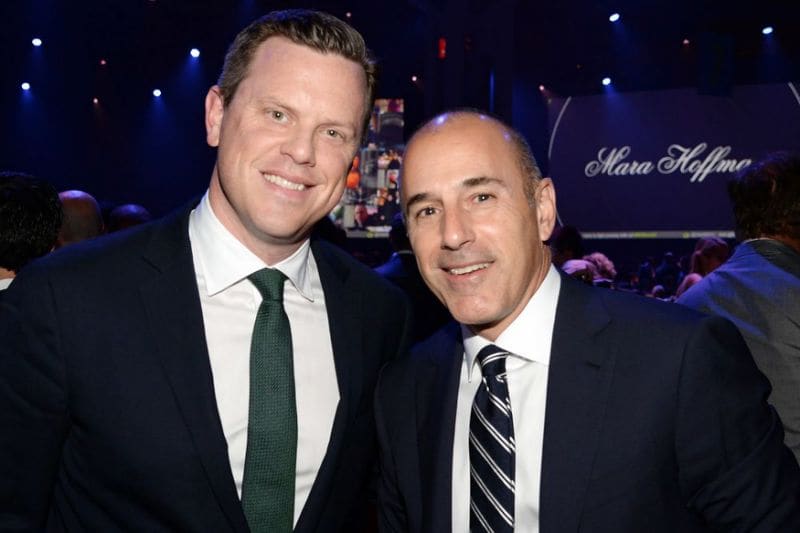 "I've texted with him just on a personal level," Geist said. "It was his birthday the other day, his 60th birthday."
"He's good. As good as he can be. He's sort of reconnecting with his family and figuring everything out," the 42-year-old Sunday Today anchor said from the red carpet of the National Board of Review Awards, which he hosted.
Lauer, whose birthday is December 30, was fired from NBC amid sexual harassment allegations made against him in late November.
When asked what Lauer might be looking toward in terms of his career moving forward, Geist responded, "I have no idea . . . I really don't know. I think he's totally focused on his kids and his family right now." Lauer married Dutch model Annette Roque in Bridgehampton on Oct. 3, 1998, and the couple has three children, teens Jack and Romy and 11-year-old son Thijs.
Geist had more definite words about "Today" co-anchor Savannah Guthrie and Lauer's recent replacement, co-anchor Hoda Kotb.
"Amazing. Amazing," he described them. "They're both my good, honest-to-goodness friends. I'm so happy for Hoda. They're kickin' butt. They won the week again last week. I think they've won every week since they've started. You can't not be happy for Hoda. She's such a genuine, loving, feeling, energetic person. She deserves it, and it's good for everybody."
Since he was fired from Today for alleged inappropriate sexual behavior in November, Lauer has remained in touch with his former co-workers — even texting Kotb earlier this month to congratulate her when news broke she would be replacing him on the popular NBC morning show.
He has remained away from the public eye though and has not spoken out since releasing a statement in the hours after his dismissal.
"There are no words to express my sorrow and regret for the pain I have caused others by words and actions," Lauer said in the statement. "To the people I have hurt, I am truly sorry. As I am writing this, I realize the depth of the damage and disappointment I have left behind at home and at NBC."
"Some of what is being said about me is untrue or mischaracterized, but there is enough truth in these stories to make me feel embarrassed and ashamed," he added. "I regret that my shame is now shared by the people I cherish dearly."
Lauer continued: "Repairing the damage will take a lot of time and soul searching, and I'm committed to beginning that effort. It is now my full time job. The last two days have forced me to take a very hard look at my own troubling flaws. It's been humbling. I am blessed to be surrounded by people I love. I thank them for their patience and grace."
If you have any views or stories that you would like to share with us, drop us an email at writetous@meawwworld.com